About a month or so ago, sasa.com had a lowered limit on their free international shipping, so as usual, I couldn't resist and decided to buy a few skincare items. However i went a bit overboard and bought around $80 worth of products anyway...
The site sasa.com is a Hong Kong based department store which carry a large range of Asian cosmetics and skin and other miscellaneous products. They offer free international shipping for orders over USD$75.
When I had orginally placed this order, sasa had a buy one get one free deal for the silk whitia sheet masks and a most of the genie in a bottle products.
Before I start my quick reviews, let me just introduce a new ingredient in skincare that will appear a lot in this haul:
hyaluronic acid
.
For those of you who are not as familiar with hyaluronic acid, it is a molecule which is found in many different tissues in the body, especially connective tissues such as cartilage and skin. It's main marketed use, especially in a lot of asian skincare brands is for moisturisation. Sodium hyaluronate (the compound formed at the body pH) is an extremely hydrophilic compound, which makes it an excellent humectant for your skin. This means it attracts water and retains it in your skin when you apply products containing hyaluronic acid.
It is also involved in cellular repair which means it can be used to help heal sunburns and claimed to have anti-aging properties (of which I am skeptical)
Now onto the reviews...
(I apologise in advance for the poor quality of some of these photos, I am using a very old camera...)
***
genie in a bottle hyaluronic acid moisture serum
(USD$11.90 for 4 x 30mL)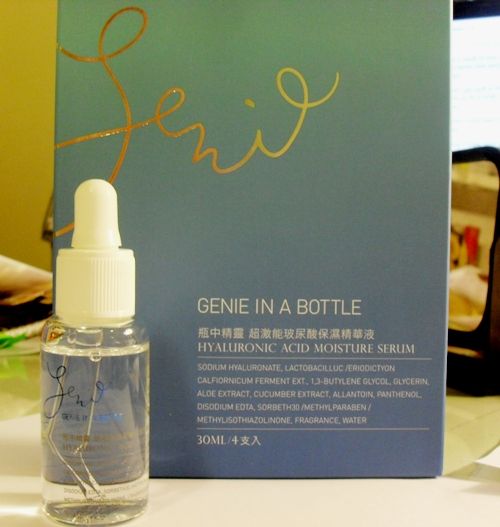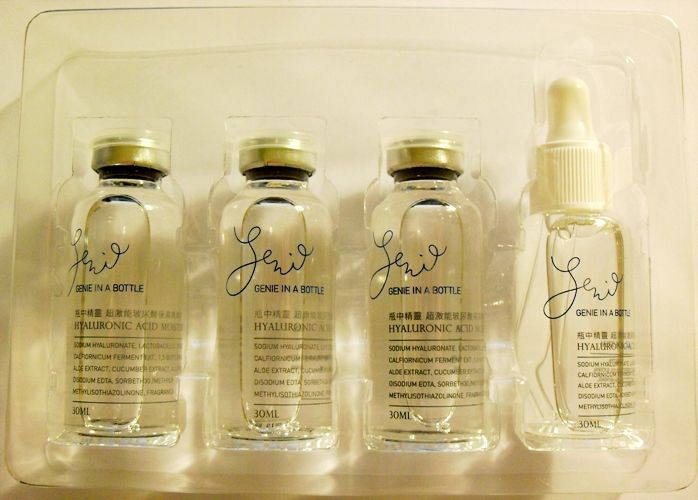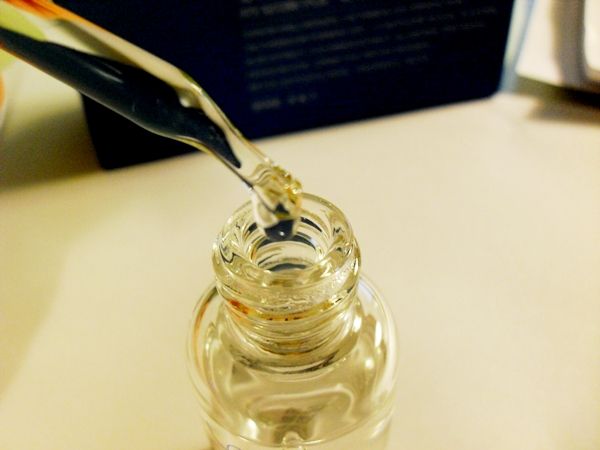 First of all, I have to say I love the packaging of these serums: the glass bottle, slanted dropper and the individually sealed bottles. I am a bit of an... enthusiast when it comes to keeping my skincare as sanitary as possible because if you think about it, multiuse packs can be a breeding ground for bacteria when you keep dipping your fingers in or touching it to your face.
This was the first product that got me interested in the
Genie in a Bottle
range after I saw it on
pink's blog
.
This serum doesn't have a strong fragrance which can be quite appealing to a lot of people who are sensitive to skincare which contains them, but I personally like the smell of most Asian skincare products =)
It is quickly absorbed and my skin felt quite smooth after application. In the morning, if I am in a rush (which is most of the time), I just apply this all over my face under my Avene sunscreen. This is a great product to use for people with oily skin who want a very light moisturiser during the day, especially during the upcoming summer months in Sydney.
I would definitely repurchase this when I run out.
On a related note, I have been using this for a month every day, morning and night, and sometimes on my legs. I still have
ONE THIRD
of the bottle left! Since there are 4 bottles in a pack and it was buy one get one free I can't imagine finishing these any time soon!
***
genie in a bottle hyaluronic acid moisture mask
(USD$11.90 for 10 pcs)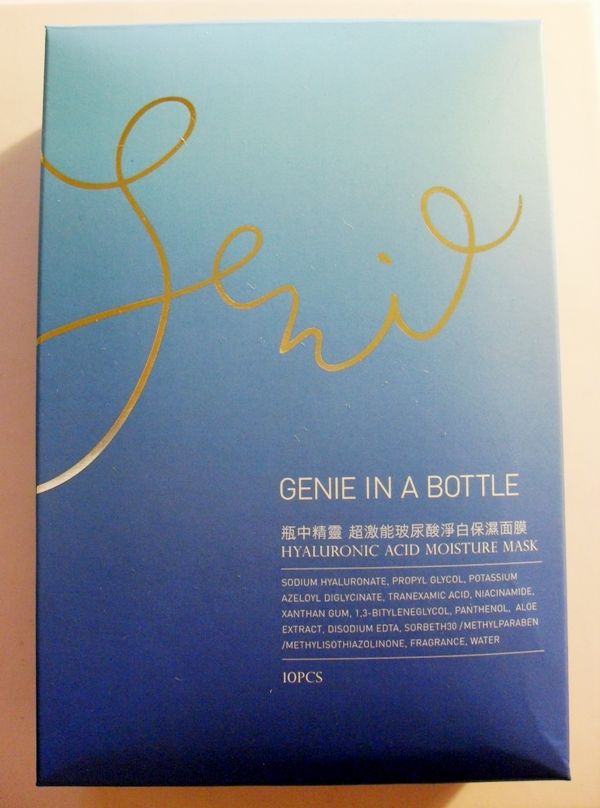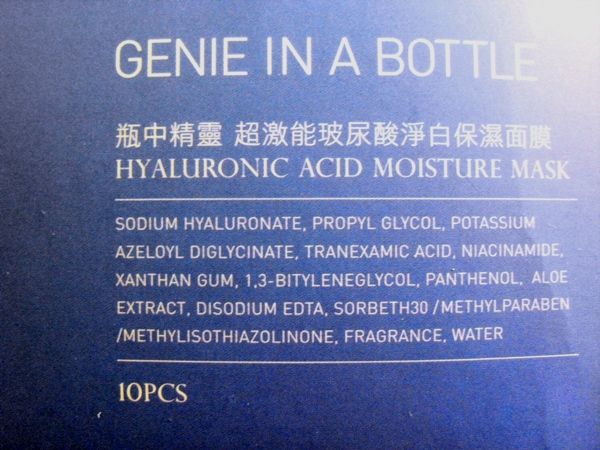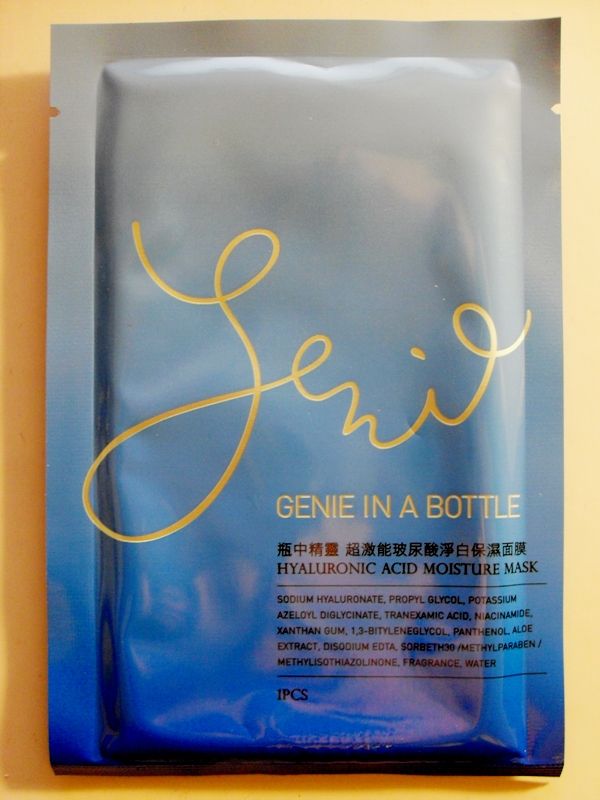 This mask was also buy one get one free, which means I got 20 masks for just over $10!
When I was reading the ingredient list, one ingredient caught my eye:
tranexamic acid
? Tranexamic acid (from what I know about it) is taken in tablet form to help control excessive bleeding. Although this is not the first time I've seen it in skincare claiming to have skin brightening properties (reducing rosacea and dark circles under the eyes) I am still skeptical...
Regardless, this mask really impressed me. The sheet is average thickness and the serum is quite plentiful, and after I was finished with the mask application there is quite a lot left in the sachet. I generally like to apply the leftover serum all over the rest of my body.
After I rinsed the leftover residue off my face after 20 minutes, my skin looked (temporarily) brighter and softer. The results are actually quite visible which was what impressed me the most about these masks.
I would recommend using these before an event to help brighten your skin before makeup or if you just want to give your skin a treat =)
As this was also buy one get one free, and considering I have a (TOO?) large collection of sheet masks, I also can't imagining finishing these any time soon, however when/if I do, I would repurchase these.
***
genie in a bottle hyaluronic acid moisture spray
(USD$9.50 for 160mL)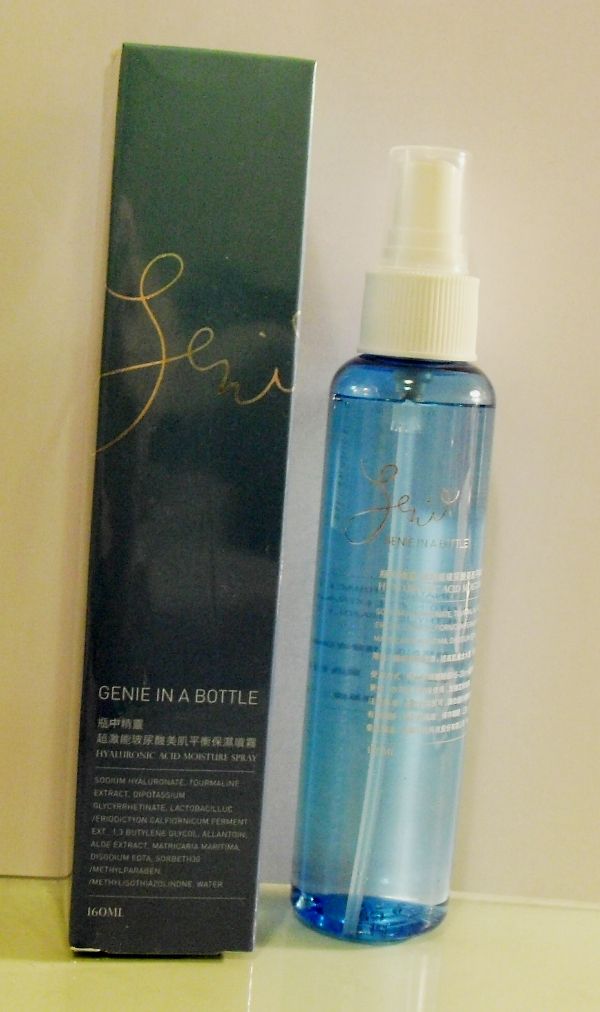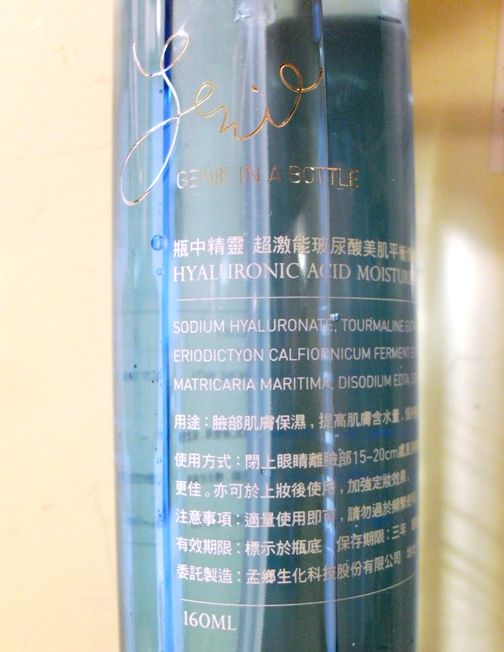 This was also on a special buy one get one free promotion and even though it didn't catch my attention at first, I thought I'd give it a go because of the deal.
The spray feels nice, the mist is not too heavy and it doesn't carry a heavy fragrance, however it does leave a slight sticky residue on your skin even after one spray which I don't particularly care for. I can see this being a problem if you're using this during the day and you want to put makeup on after a spritzing this a few times on your face.
I guess this could be used to give your to give your legs/arms a bit of a moisture boost when you're too lazy to moisturise. It can also be in place of aloe vera sprays after sunburn to boost the healing process.
Even though I wouldn't call this product a miss, it has too many drawbacks for me to keep reaching for it on a regular basis. It doesn't compare to my HG facial mist which is Avene thermal water spray (we have a 2 for $20 deal at work on the 300mL at the moment and I just stocked up!)
***
I hope this review was helpful to anyone who wanted to try out Asian skincare. If anyone wants me to review anything else you see in the first haul picture, just leave a comment in this post =)