I have been an avid user of sunscreen since I was 17 when I started to notice sun spots on my face after I grew out of my acne phase. I have been using so many different serums and creams to try to get rid of those spots, but they don't seem to budge no matter what I do.
Since then, I have been using sunscreen every day (unless I'm staying at home). I have tried many different sunscreens/tinted moisturisers with SPF. Like most people, the main thing I look for in a sunscreen (besides SPF) is a non-greasy formula. Given that most sunscreens (even ones especially for the face) are slightly greasy to a degree, I'm always looking for one that has the most matte finish.
I was in Cairns for placement earlier this year, and while I was at packing Websters, I overheard the conversation an Avene sales rep was having with the shop staff regarding their line of skin care products, and my ears pricked up when I heard about their
sunscreen
.
When I got back to Sydney, I was curious and decided to have a closer look at the sunscreen next time I went into work and tried the tester.
I was initially surprised that the sunscreen was flesh coloured and not white when it came out of the tube, but the colour completely disappears after I rubbed it in and left it for 60 seconds.
swatches on my arm: (left to right) straight out of the tube, slightly spread out, after rubbing in
After using this for a few days, I really liked the formulation. It is probably the least greasy sunscreen I've tried so far and wears great under makeup. The smell isn't bad, but it's not particularly fragrant either. I assume this is because the selling point of Avene products is that it is extremely hypoallergenic and designed for people with extra sensitive or intolerant skin and adding artificial fragrances usually causes skin irritation.
Not only is the formulation great on this sunscreen, the stuff inside is great too!
First of all, it is SPF 30+ (generally I'm okay with an SPF of at least 30), but the biggest appeal to me in terms of ingredients is that it contains Titanium Dioxide and Zinc Oxide.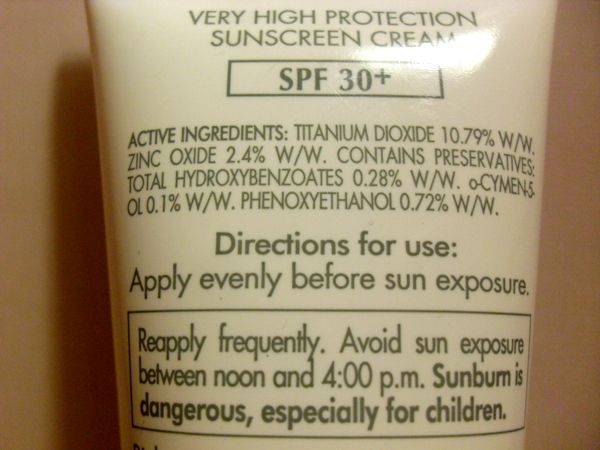 These ingredients are so called "physical blockers" and act like mirrors to reflect UV rays away from the skin. On the other hand, "chemical blockers" are molecules that absorb the UV energy to prevent it from reaching your skin. A lot of sunscreens often contain both physical and chemical blockers so I was quite happy to find one with only physical.
There are a few advantages of using a sunscreen with physical blockers:
Chemical sunscreens need to be applied to bare skin to maximise its effectiveness as it needs to interact with your skin to be absorbed, whereas physical sunscreens do not.
Chemical sunscreens also need 20 minutes after application to be active, which is why most on most sunscreen labels it tells you to apply 20 minutes before sun exposure. Once again, physical sunscreens can be put on and start working straight away (which is great for me because I'm always running late...)
There are some controversies regarding the safety of chemical blockers such as avobenzene, but there haven't been any studies to conclusively prove that this is the case (yet).
However, physical sunscreens don't tend to last as long as chemical sunscreens (especially after exposure to water) so I suppose it need to be applied more often if you're going to the beach or having a super long day outdoors!
Another thing I've learnt about sunscreens in general is that it makes your face look ghostly in flash photography. I've seen many photos of girls whose faces look significantly paler than the rest of their body, and I'm almost sure it's because they are wearing either sunscreen or a foundation with SPF.
I definitely would recommend this sunscreen to anyone who is looking for a non-greasy and effective sunscreen for every day use.
I bought mine at work when it was on sale for around $18, and with my staff discount, it worked out to be quite cheap because it doesn't require much product to cover your whole face. I imagine this 50mL tube will last me at least 6 months, if not more.