About one and a half months ago, I saw some ads for a beauty samples subscription service on facebook, and noticed one of my good friends had "Liked" the page and I clicked on the link because I was curious. After a bit of reading, it sounded like something I would be interested in so I gave it a go.
Bellabox is an online monthly beauty sample subscription service where you pay $15 a month and they send you a very generous box of sample sized and sometimes even full sized cosmetics, skincare and other beauty related products.
I completed a "style quiz" which asks some questions regarding things like your skin type and what kinds of makeup "looks" you prefer. This helps them to "customise" your box so that it contains products which would be of interest to you.
I received my bellabox around the 2nd week of November, and I was super excited to see the cute box in the mail!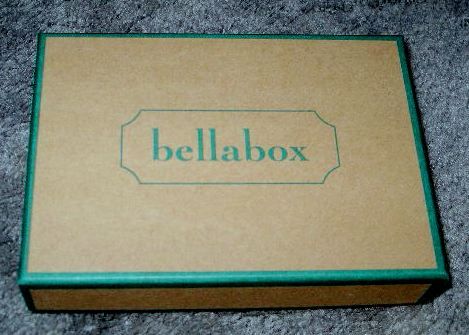 I actually misplaced my own box, so this picture is from google images =(
The first thing I noticed was that the box itself is very sturdy and well made, it reminds me of a fancy shoe box except half the size!
When I opened the box, the contents were carefully wrapped with black tissue paper and sealed with a sticker.
The box also came with some cards listing information about the contents of the box and some information about the company.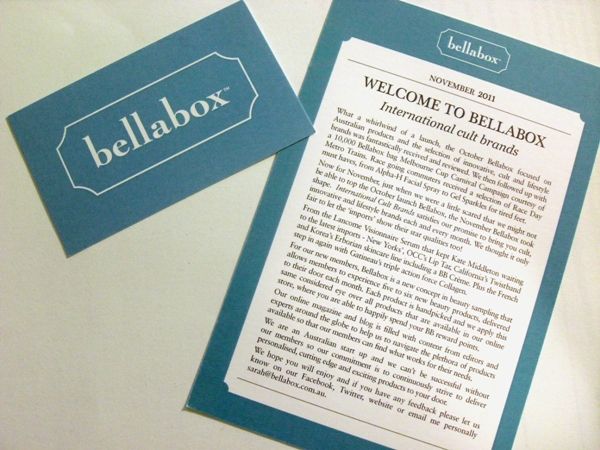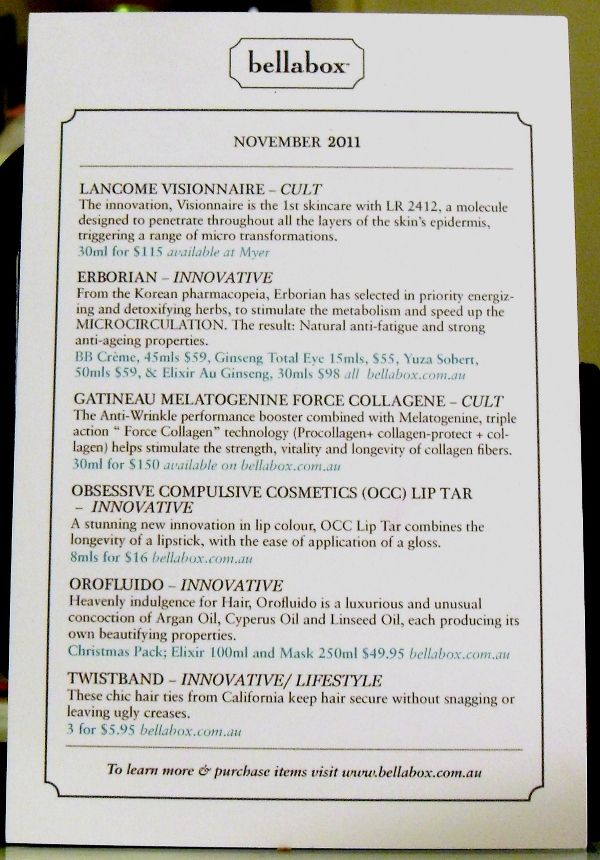 I received 6 different products in my bellabox, 1 full sized and the rest were sample sizes.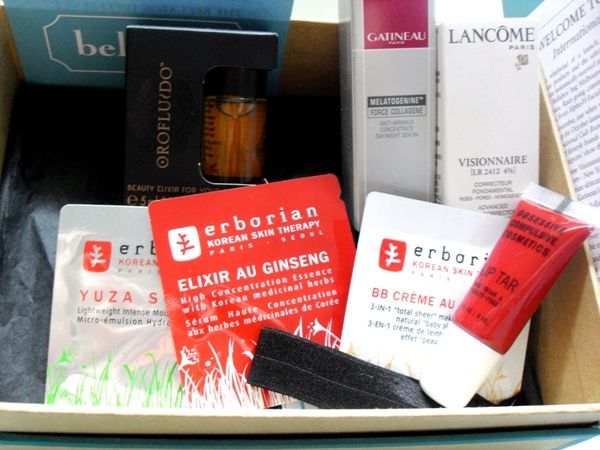 In this post, I'm just going to talk about the two products I am planning to repurchase.
***
OCC Lip Tar in NSFW
($16 for 8mL)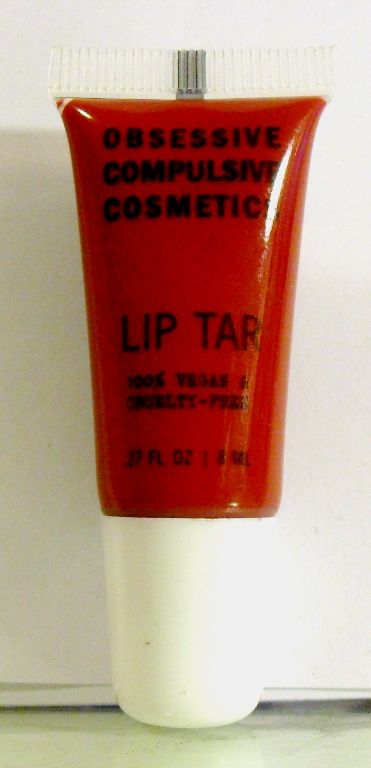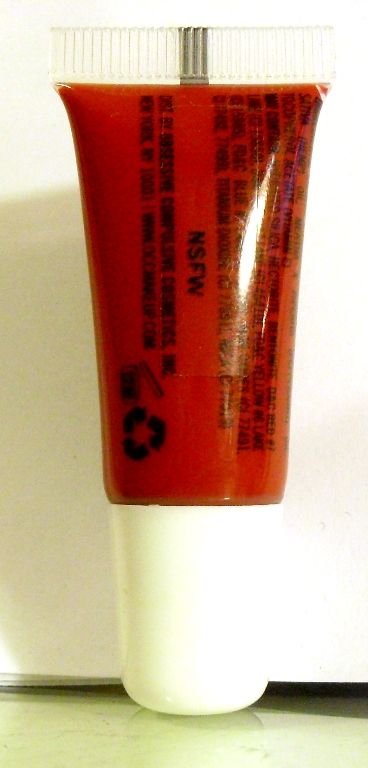 Out of all the products in the box, this was the most anticipated one for me. I first saw a review of them by Christine from
temptalia
quite a long time ago.
OCC lip tars are very aptly named, because the texture and feel is very different to any other lip products I've tried. It has quite a thin consistency and feels smooth but not greasy or sticky on the lips. They are designed to be mixed with other shades or worn alone.
Let me just start off by saying that this product has got to be the most pigmented, most concentrated and most longwearing lip colour I have ever tried!
Even with such a vibrant colour as NSFW, I only used the tiniest drop (see below) to cover my WHOLE LIPS. If you use too much of this, chances are the colour might feather a bit or migrate to your teeth. The tube may look small (8mL), but it will last you FOREVER, and for $16 for such a great quality product, it really is a steal.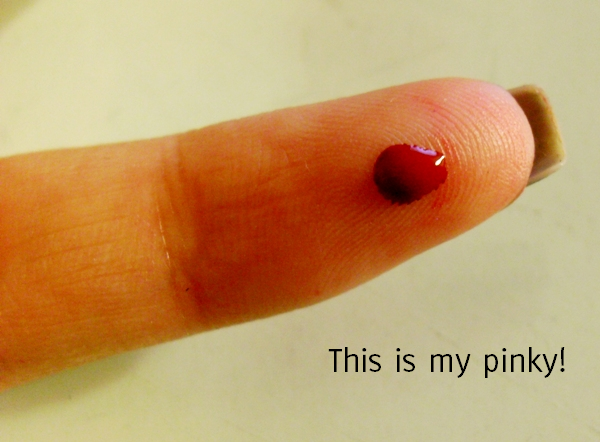 Because it is so easy to use too much product, the easiest way to apply this neatly to your lips is with a synthetic lip brush. This way you don't risk wasting a lot of the product or getting it all over your face!
I don't know why all my photos turned out so yellow, the colour in real life is a cooler, darker red... the arm swatch photo below is probably the most true to colour.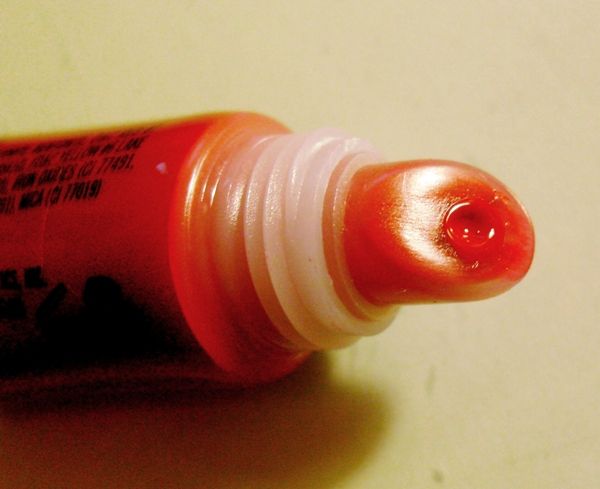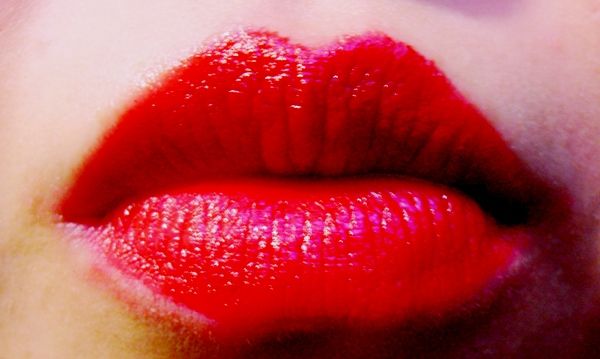 Bellabox has a store where you can buy these individually for $16 with free shipping, and there are quite a few different shades available. I am planning to buy the shade called "Grandma" which is a bright creamy coral colour.
***
Orofluido Beauty Elixir
($49.95 for 100mL Elixir PLUS 250mL Mask)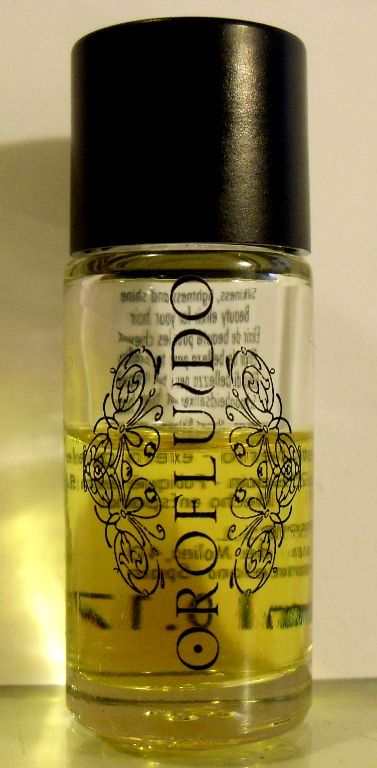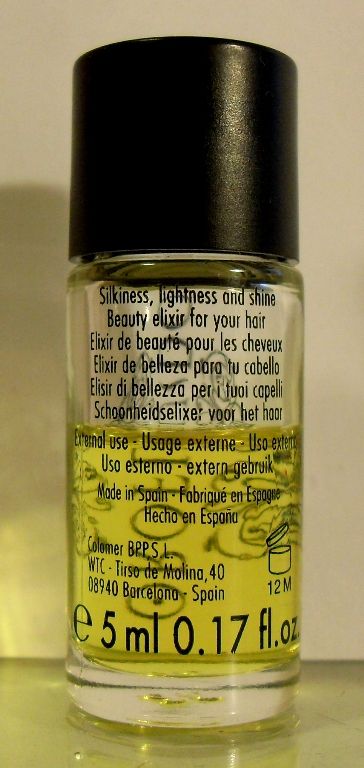 excuse the half empty bottle, i've already started using it and forgot to photograph it when it was full...
Before I received this product, I have never heard of the brand "Orofluido" before. However after a quick google search, I discovered it is under the same umbrella company as Revlon hair products.
Orofluido Elixir is a hair oil comprising of a mixture of Argan, Cyperus and Linseed oils. The first thing that came to mind was the much raved/celebrated Moroccanoil. After finishing a bottle of Moroccanoil and then trying Orofluido Elixir, I feel that these two products are comparable. Even the ingredient list of these two products are almost identical.
The oil is quite viscous which is good because I can control the amount I want to use (only need a small amount) and it has a pleasant smell.
I usually use about 2-3 pumps of hair oil/serums after I towel dry my hair and before blow drying. This tends to make my hair more soft, silky and smooth after it dries.
I would definitely purchase the full size of this simply because it is so much cheaper than Moroccanoil ($49.95 for 100mL Orofluido Elixir PLUS 250mL Hair Mask compared to $40-$50+ for 100mL of Moroccanoil)
***
So in summary, for $15 I received at least $40 worth of high quality products, some from brands which are not even available in Australia and even products from luxury brands like Lancome.
I was very impressed with my first bellabox and I would definitely recommend this to everyone to try out!