I've had a love-hate relationship with eyeliners since I first started experimenting with makeup at 15. Back then, I had a very very limited budget so I used cheap pencil eyeliners. After about an hour of applying it, most of it would have disappeared or migrated below my bottom lash line and I would look like this:
(ok maybe not as cute as this little guy =P)
Throughout the years I've mainly been putting up with sub-par eyeliners, and it wasn't until last year that I discovered how to use liquid and cream eyeliners.
Most Asians with monolids like myself know how difficult it is to find an eyeliner that stays on all day. Because the area that I draw the eyeliner on is constantly folding over itself, people with monolids have extra difficulty making eyeliner stay on the upper lashline (or even be visible for that matter... but I digress...)
So onto the review...
Lancome Artliner is Lancome's most newly released liquid eyeliner. I'm not sure how much it costs at the Lancome counter at Myer and David Jones, but the US RRP is $29 USD. The general markup in Australia is around 200-300% so I'd assume it costs around $50-70 AUD... Fortunately, you can buy it from
strawberrynet.com
for $32.50 AUD! Bargain!
It comes in a sleek black container that contains 1.4mL of product. I know it doesn't sound like much, but one tube usually lasts me 2-3 months or so with daily use. Like most liquid eyeliners, it has a long handle to help with application.
It also comes with a little metal ball inside the container that you can hear when you shake the container. It's not that essential until you come down to your final few drops, and then it saves your life haha...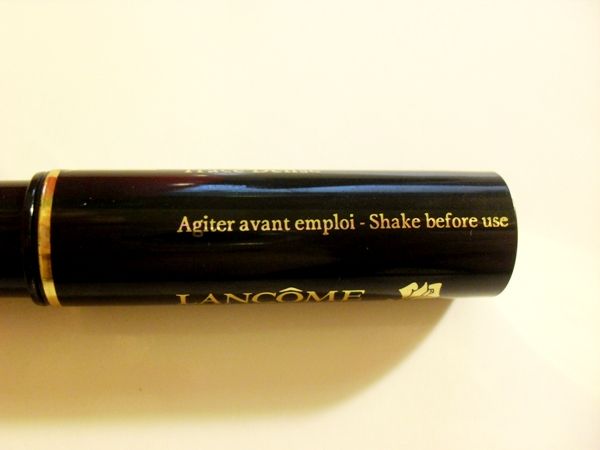 Besides its staying power, what I like most about this product is the applicator. It made out of a foamy material, is stiff but flexible and slightly tapered. I find this a lot easier to apply than the brush type applicators like the Urban Decay or MAC liquidlast. It takes 30 seconds to 1 minute to dry and I usually keep my eyes closed during this process to prevent any smudging. However I sense this is only an issue with monolids, people with a visible fold in their eyelids can generally let it dry with their eyes open.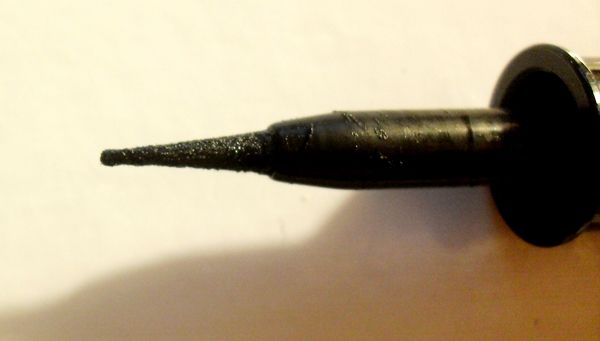 The formula is opaque with one swipe, so there's no need to keep tracing over the same line to get a dark line. The following swatch is just one gentle swipe: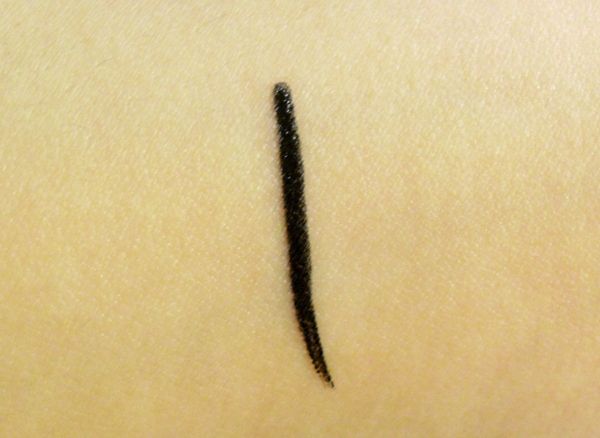 Because liquid eyeliners take a bit of practice to master its application (unlike pencils) it might take a few days of funny looking makeup before it looks decent (well it did for me, I'm assuming some people may have fine motor skills than I...). However, once it goes on and dries, it will last all day! Even during hot and humid summer days.
This is what it looked like on me a few hours after initial application. Please excuse the blurriness, I took like 10 of these and this was the clearest one...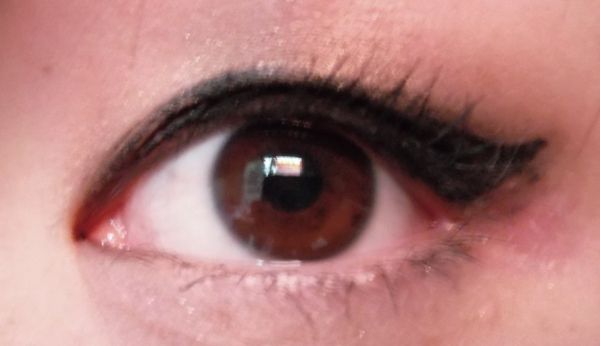 I like to wing my eyeliner to elongate my eyes =)
A simple tip to draw a better wing: With your eyes open, try to imagine the wing as an extension of your lower lashline.
That's all for today folks! Nars Blush review coming soon!